Hello there!
I admit I'm getting a bit flustered, so please bear with me.
THE PROBLEM
PlayMaker's events are stifled buy UCC, especially when it comes to collision based events. I'm using
Inventory Pro
(
Which I am aware does not integrate with Ultimate Character Controller).
My solution was to create a very simple PlayMaker machine which causes an item to be picked up. However, with both PlayMaker and UCC installed, playmaker's collision events don't function.
I know that PlayMaker's functionality is broken by UCC, because the Playmaker Icon does not appear within the Game View when both are installed, and the Debug view in the Game window can't be seen.
MY ATTEMPT TO FIX IT
Obviously, I should therefore install the PlayMaker integration for UCC. However, when I install the integration, I'm getting a single Namespace Error.
Assets/Opsive/UltimateCharacterController/Integrations/Playmaker/AssignCharacter.cs(20,17): error CS0118: `CameraController' is a `namespace' but a `type' was expected
I attempted to rename the line in the
AssignCharacter.cs
from namespace
Opsive.UltimateCharacterController.Integrations.Playmaker to public class

Opsive.UltimateCharacterController.Integrations.Playmaker : MonoBehavior

and only made it worse.
Then, when I
Close and Reopen the Editor
the integration is preventing the editor from loading the majority of my content, with a mouseover for a broken MonoBehavior on each of the top level items in the Scene View.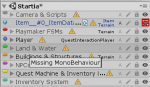 Does anyone have any thoughts on what it is I need to do to get
PlayMaker and UCC
playing nicely together?