Hi,
I am starting a new project and I would like to have an action combat system similar to action JRPGs. This is my first project where I will be using 3D animations, so I am not very familiar with root motion, IK, animation masking and humanoid animation in general. The gifs below show the type of simple attack combo I would like to start with.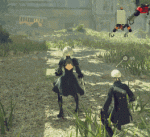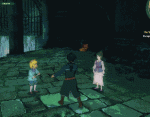 And this is what I got by using the default sword animation from TPC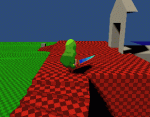 So I have a few questions which I hope some of you might help me answer
Do these animation combo use root motion? I think they do, but when attacking enemies these animations will sometimes move the character further to reach an enemy or on the contrary make the character move less to chain up attacks when enemies are close. Is this achieved using animation blending or is the character motion regulated by a blend of code and root motion.
In Nier:Automata and Ni No Kuni II the characters do full 360 turns in their combos. I would like to do the same (it gives a more fantasy like combat style), Is there any issues that can be caused by doing this, for example that the forwrd of the characters gets slightly offset by each combo? If that is the case what could I do to remedy these issues?
How can I replace animations for specific weapons in the animator controller? The documentation is not clear about how it works
Does TPC use full body animation when attacking or is it separated in upper body attack and lower body walk?
How can I chain attack in a combo sequence? The sequence parameter in the weapon item starts attacking is not reset when the first animation has stopped. I read somewhere that there would be a way to do this in version 2.1 of UCC. Is that correct?
Finally, at the end of a combo, there is usually a bigger attack that sends enemies flying. How can I make the same weapon have different effects (damage, knockback, draw-in, etc ...) on each strike.
Extra question: I haven't found a way to get a knockback animation to play when attacking an enemy. How would I do that?
The documentation of UCC on the animator controller and how it works is lacking in my opinion. It would be great to have more information on how the animator controller could be modified with new animation or even generic models. If there were videos that showed an example of modifying animation that would be even better.
I will probably continue posting questions on this thread as I continue on my project because I would like to do things like mid-air combos (with the character & enemy floating while you attack), dodging, blocking/pary, swapping weapons in the middle of a combo (eg. strike 1 2 and 3 with weapon A followed by to strike 2 of weapon B), etc...
Thank you for your time
Last edited: