Hi,
I was working through the tutorial videos to try and understand how the Ultimate Character Controller works, and I ran into an issue after setting up my assault rifle.
Once I got the positioning corrected as shown in the video I noticed that the left hand does not seem to follow the item when aiming up and down and just seems to tilt slightly.
The other issue I am noticing is that when I "fire" the animation repeats and there seems to be no way for me to slop it.
Any ideas as to what I am doing wrong?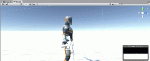 ​