I just downloaded swim add-on and it's working great. However, when I try and drag the splash effects into the Surface Swim Splash fields, I can't. I recorded a short video to show exactly what is happening:
Additionally, I noticed how the array items are nesting inside eachother, as opposed to stacking. It will make sense when I show you in the video above.
Note: I can drag and drop just fine when using the Nolan character from the demo. What's interesting, however, is that if I copy the component from Nolan with all the splash prefabs in their correct inspector slots, and paste into my own character, everything pastes except for the splash prefabs!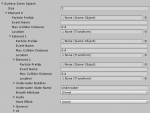 Thanks so much for your help!